Android Mobile Device Management
Posted on October 13, 2019 in General - Blog Home
What is Mobile Device Management (MDM)?
Mobile device management has come a long way since early days of Android. Back then mobile device management was all about restricting certain hardware components/features or enforcing policies like password to secure access to enterprise mobile devices. Since Android 5.0, Google has been focusing more and more on the use of Android in work or business environment. One of the major update to mobile device management for Android was Android for Work or Android Enterprise, launched in 2015. With the launch of Android for Work (also known as afw), Android became one of the most trusted mobile device management platforms for enterprises.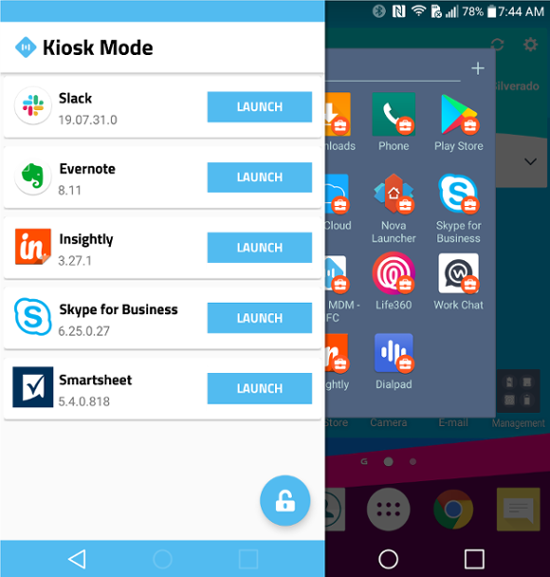 Android Mobile Device Management - Android Enterprise
The main features of Android Enterprise (aka Android for Work) are the ability to support various use cases of mobile devices in a corporate environment. The users who want to use their personal mobile devices for work were supported by BYOD - Work Profile mobile device management, which devices owned by the company itself could be managed as a fully managed mobile device - Device Owner or as a single purpose mobile mobile device to be used as a Kiosk Mode (COSU) - Dedicated Device or an interactive display. With the arrival of Android Enterprise, Google also started Android Enterprise Mobility Management (EMM) partner program. This programs validates and certifies mobile device management solution providers for Android mobile device management. WaZa mobile device management is an Android EMM partner.
Mobile device management has been at the forefront with every new release of Android. Advanced features like advanced VPN management, zero touch enrollment or ephemeral users set Android mobile device management apart from the competition. With more and more enterprises embracing mobile device management to increase productivity of employees, WaZa mobile device management solution facilitates companies securely configure and manage corporate mobile devices with ease. IT admins can setup mobile device management and start provisioning employee-owned (BYOD) or corporate-owned (kiosk mode or fully managed) devices in minutes.

As a leading mobile device management solution WaZa MDM fully supports managing employee-owned (BYOD) or enterprise-owned mobile devices. IT admin can make use of the following mobile device management types to manage mobile devices.
For advance mobile device management types (Kiosk Mode, Device Owner or BYOD) Android For Work enrolment is required.
Basic
Basic mobile device management is a light weight device management type that does not require Android EMM enrollment. Certain advance mobile device management features like Application Policy, some of the advanced Security Policy features are also not available. We would recommend using Basic mobile device management when only location tracking or geofencing is desired.
BYOD - Work Profile
BYOD - Work Profile mobile device management option becomes available once Android EMM enrolment is complete. During the Work Profile provisioning flow a Work Profile is created by WaZa MDM mobile application and MDM polices are applied only to the Work Profile. Certain policies like Bookmark, Wallpaper are not available for Work Profile mobile device management type, while Password policy provides an option to apply Password policy only to work profile in addition to device wide (main profile). We would recommend BYOD - Work Profile mode for employee-owned devices. Learn more about BYOD - Work Profile.
Kiosk Mode (COSU) - Dedicated Device
Kiosk Mode (COSU) or Dedicated Device mobile device management can be used to manage mobile devices that are Dedicated for a specific purpose e.g employee facing corporate environment or customer facing for display or kiosk in an showroom, outlet setup. Dedicated device management type can only be setup on a new or factory reset device. WaZa MDM supports NFC as well DPC identifier provisioning. Learn more about Kiosk Mode (COSU) - Dedicated Device.
Device Owner
Device Owner mobile device management mode supports almost all the various device management options available in WaZa MDM. Like Dedicated Device management type, Device Owner management type can only be setup during the initial setup of a new or factory reset device. Provisioning of Device Owner mode is similar to Dedicated Device as mentioned above. We would recommend Device Owner mode for company owned devices. Learn more about Device Owner.